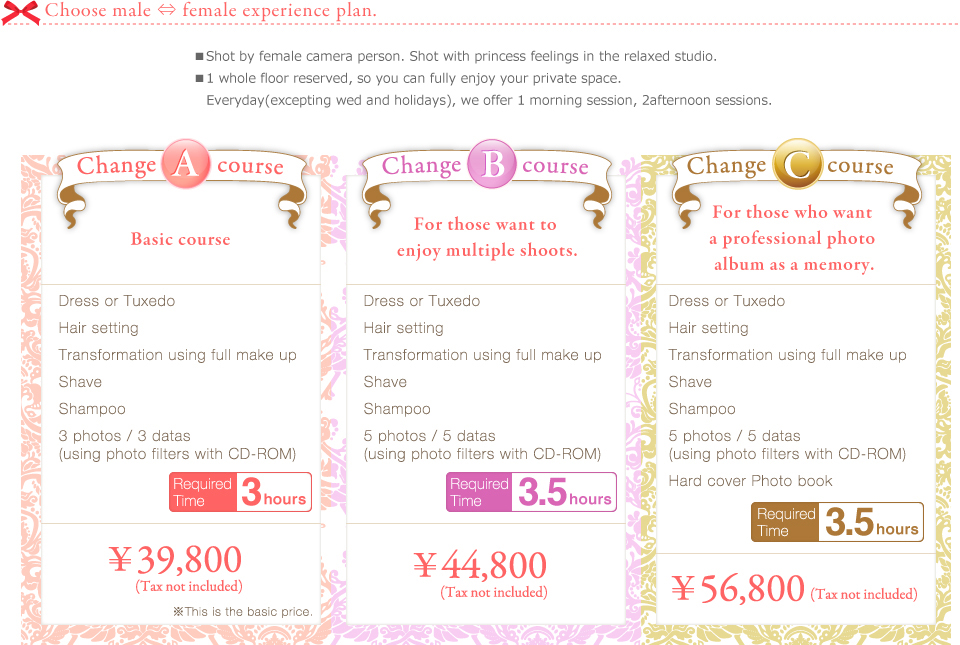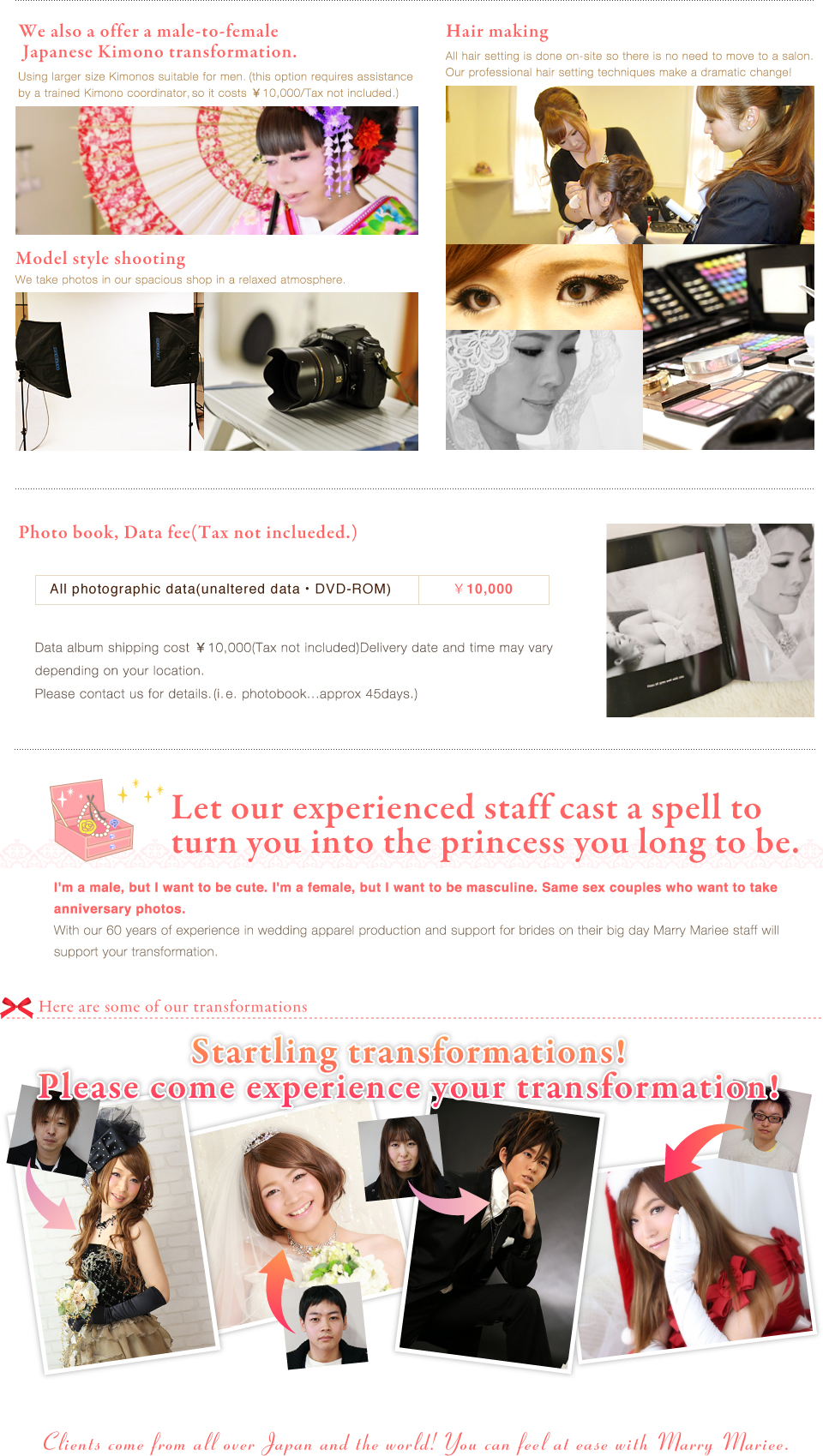 What makes our transformation experience special?

We offer extra large size clothing (up to Japanese size 27)

We carry sizes for all men.
We also carry dresses for 180cm tall men.

Computer based photo filters are used to make your skin look beautiful.

We erase skin blotches or wrinkles to bring out your natural beauty.
We pay special attention to your skin color, acne and scars to return your skin to its original beauty.
On the day of the shoot we eliminate any new blemishes on your skin.

Be at ease with our female cameraperson.

While shooting we encourage open communication between customers and staff.
In our relaxed atmosphere, you can be at ease.
We chat during a photo shoot in a fun way in order to catch candid photos.

Your face and heart will shine with joy.

Marry Mariee staff will assist in your transformation carefully and respectfully.
For some reason following your transformation your heart will unravel and mind will fill with relaxation.


1. Please make a reservation by e-mail

Please make a reservation by e-mail.
【TEL】81-776-33-2272
【Business hours】Weekday/9:30am-6:00pm
Weekends and holidays/9:00am-7:00pm
【Closed】Every Wednesday

2.Pay 30% of reservation deposit.

Handling fee ¥3,000
Bank : Japan Post Bank
Branch : 338
number : 13360-251531
Name : Hinode Ishoten. co. Ltd.

3.The day before the shoot

Finally tomorrow my transformation will begin!
The clothes you dreamt about are here.
At a minimum, please come freshly showered and well coiffed.

4.The day of shoot

In order to have the make up set well, Marry Mariee will ask you to stop at a professional, nearby barber to have your hair shampooed, and get a fresh shave.
※After you make your reservation, We will give you the barber shop information. Please come to Marry Mariee with smooth skin. Let the fun begin!

5.Choose your dress and hair styling.

We will give you the style that fits your image of "Kawaii" or "Prettiness".
Let us know the "idol" or celebrity you have always wanted to be.

6.During the shoot

Hooray! Your transformation is complete!!
After your transformation is complete, we will begin the "cool" or "cute" shoot.
During the shoot we will look for the best most beautiful angels, we will shoot approximately 100 photos.

7.Photo delivery in approximately 45 days

We will deliver the retouched photos by EMS. The cost is ¥5,000 (tax not included.)
The photo date can be sent by e-mail for free.

What is your age limit?

We have no age limit. We enjoy serving customers from a wide age range 20s to 70s.

I would like to wear two dresses. How much does that cost?

Basic course A ¥39,800 ×2=¥79,600 (tax not included) with no hair change, you receive a ¥5,000 discount.

I don't know where Fukui is, can you give me simple directions?

From the Kansai Area: 2 hours by Thunderbird from Osaka station.
From the Kanto Area: 3.5 hours by Tokaido Bullet Train to JR Maibara station, transfer to Shirasagi Train, Hokuriku Line.

How far is it from Fukui station to Marry Mariee?

Take Etsumihokusen line from JR Fukui station to Hanando station, walk 10 minutes to Marry Mariee. Or 10 minutes by car from Fukui station. Click here for a more detailed map.

Can I have the photo album or data sent to me by postal general delivery?

No problem, please don't worry! Postal restante shipping cost is ¥500 (tax not included)

Can I bring my own small accessories or props to use during the photo shoot?

Sure, as long as these are no safety issues. It's no problem.

Can I bring my own wig or hair piece?

Of course! If you want to bring your own it's no problem.

I don't usually wear make up, I'm a little worried about whether or not the make up will set well with me.

Don't worry! Before your transformation you will get a fresh shave, so your make up will set well.

Instead of a dress, how much would it cost to wear Kimono?

As part of basic plan ¥39,800 +¥10,000=¥49,800 (tax not included)

What should I prepare?

Knee-high stockings and Japanese Tabi socks. We also have these available for purchase.

What are your rules or manners for making the shoot as enjoyable as possible?

Marry Mariee is a special girl's dress shop, so before coming, please take a shower, please come in your favorite, clean clothes so we can understand your personal taste and give you the best advise on your dress options.

Can I bring my own dress?

Basically, we ask that you do not bring your own dress. However, we will consider using your dress if consulted.

If I forget my own make up remover, what should I do?

Don't worry. We have make up remover available for purchase. (500en tax not included.)

 before

 after

This was a wonderful, deeply moving experience for me. The staff was warm and friendly and were able to answer all of my questions and concerns. I will definitely come again.

Mr. S・R

 before

 after

I was a little curious before starting but was utterly surprised at my transformation! I was a little nervous at first, but the thoughtful staff made me relax so I could enjoy the shoots. It was very fun.

Mr. S・Y

 before

 after

I was very happy because the staff took their time with me and treated me with care, so I was of course able to look my prettiest! This was a very valuable experience because I could be the "main character" something in my daily life I have never experienced.

Mr. S・A

 before

 after

I have always wanted to see what it would be like to be a man, so it was very exciting! I want to try another version next time.

Ms. T・M